At Kraft Engineering, we apply our industry knowledge to engineer better designs.
Kraft Engineering designs and manufactures trailer units to meet individual specifications for a range of manufacturing clients. In operation for more than three decades, Kraft Engineering's commitment to innovative engineering solutions means the team stands by their craft.
True industry specialists
Kraft Engineering has always built the toughest and most reliable logging trailers in the industry, but they do more. A lot more. With an in-house design and manufacturing team, Kraft Engineering uses the latest engineering technology and lightweight materials to produce products to last a lifetime.
Kraft Engineering was born out of a vision – to create trailer units and equipment that would revolutionise the manufacturing industry.
Established in 1978, Kraft Engineering set out to do what no other engineering firm had done before. To build trailer units of a size and weight that increased a client's profitability without putting the customer out of pocket. Today, from its headquarters in Ngongotaha in the Bay of Plenty, Kraft Engineering combines innovative design with technical drive and ambition to take customer service and specialist engineering solutions to the next level.
Super B
Kraft Engineering's Super B unit has taken innovation in the logging industry to a new level. Made up of 3 x 20ft containers or 1 x 20ft and 1 x 40ft containers, the Super B has given clients greater transportation power and created a Kraft legacy that puts our engineering firm in a class of its own.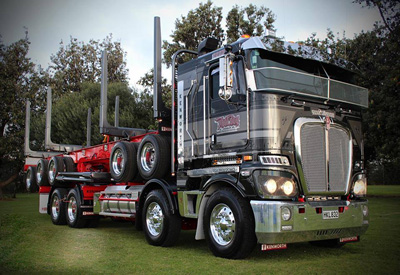 Trucks

Kraft Engineering ensures the correct set-up of your trucking unit to equip it with the mechanisms required to tow your newly manufactured Kraft trailer.

Trailers

Our trailer units have been expertly designed using the Solid Edge 3D CAD software programme and customer feedback, enabling us to deliver on your transport requirements.